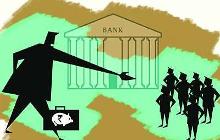 The Reserve Bank of India (RBI) has directed banks to refer as many as 50 dud accounts to bankruptcy court if they are unable to find a resolution for them in about three months, in the second such list that the regulator has sent out in its renewed campaign to clean up the country's overwhelming bad corporate debt problem.

The move will not only put pressure on promoters to come up with workable recast strategies but also pinch banks even more as they will have to make higher provisions on loans of companies referred to the insolvency process.

A senior bank official said each bank has got a separate list from the RBI. Based on conversations with bankers, ET estimates the number of corporate accounts involved at 45-50 with about Rs 2 lakh crore in outstanding loans. It was in June that RBI had sent out the first list of 12 accounts that added up to about Rs 2.5 lakh crore in money owed.